Top 5 Things to Buy a New Parent
Based on what we needed, wanted, and loved. Yes, if you buy a thing via the links, I may well get a kickback from Amazon. All the stuff here is stuff I've vetted personally!
#1
If they don't have noise cancelling headphones that can be controlled with their phone, this is the #1 thing to get them. They are ESSENTIAL.
My father bought me a pair of these and my spouse bought a pair for their own use soon after.
You might also want to get them some black electrical tape to cover the little lights though, in case they have a sleepless little gremlin like we do who goes for shinies in the dark.
#2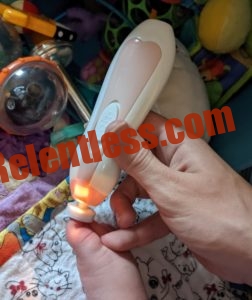 Newborn baby nails are rubbery, monstrous things that defy emory boards and clipping them requires nerves of steel and an utterly MOTIONLESS baby. It's a horrifying experience for any new parent. Especially when you accidentally nick your two day old's finger and it bleeds and they cry and it gets infected and you feel like THE WORST MOM.
SAVE your new parent friend from this experience with the super easy to use and super soft and gentle baby nail trimmer.
#3
This thing. Our baby loves this thing. It all began as a thing to go on her car seat for driving.
Then she started rolling off her changing table, so it became the 'oh god please stop trying to roll off the edge and onto the floor' device. This particular model is the one I got. She loves the spinny. She loves the mirror. The bee is her best friend (it velcros to ALL SORTS OF THINGS, like the sloth pit) and taught our child fine motor skills at age 4 months since she spent so much time trying to catch the darned thing…this skillset has been her boon and our bane as the hellion overtakes the household- wait, I take it back, DO NOT BUY THIS FOR YOUR NEW PARENT FRIEND.
#4
Where do you put the baby? In the sloth pit. How do you entertain the baby? Wiggle the sloth pit arch. How do you entertain yourself while watching the baby? Rearranging the attached toys to the sloth pit arch and wiggle the sloth pit arch. What's easy to clean from baby spit up? The sloth pit. What doubles as a ball pit? The sloth pit.
Why is it called a sloth pit? I- I don't know. Just know that taking the baby to the sloth pit will be your new parents' favorite thing for months.
#5

I have one of these in the kitchen hanging on the back of a chair and one of these in the baby room on a door hook to put launderables in. When it gets full, I dump the contents (and the bag itself) straight into the washer. I've even used 'em for toy storage in a pinch! Cheaper than 'machine washable laundry bags'. Not 100% waterproof but it does the trick for anything not sopping. Love 'em.