Baby Food / Comiendo Con Bebé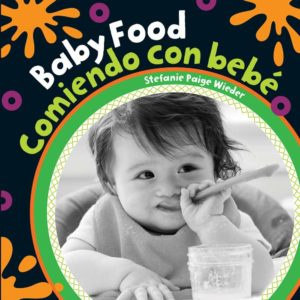 ⭐⭐⭐⭐⭐
Ages 0+. Written by Stefanie Paige Wieder; images from various Shutterstock artists
5 Stars: Cute, Bright, and rhythmic
My little one LOVES this book because of its high contrast design and recognizable photos, and you'll appreciate the subtle pleasing design of its pages, the naturally rhythmic read and its adorable, diverse photographs of eating babs and their families!
Bilingual English / Spanish
Anything that lets me expose my kiddo to another language without making me feel utterly lost and confused gets a +1 in my book!
Diverse Photos
The selected photos are a good representation of our planet's human populace, and they're cure examples of bottles, sippies, bowls and finger foods!
Bright, Bold High Contrast Colour Choices
Not all art is created equal. This book is aesthetically pleasing!
Seriously, admire the color choices.