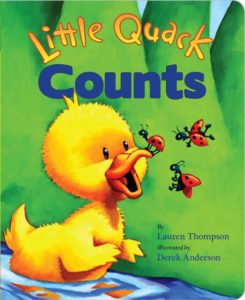 ⭐⭐⭐⭐
Ages 1+. Written by Lauren Thompson, Illustrated by Derek Anderson.
4 Stars: Story Driven Counting book
A breath of fresh air after a billion one-a-page '2 fuzzy lumpkins, 1 swaddled grue' picture books, this one tells a story with its counting. It also goes from 1 to 5 and then counts backwards back to 1. Despite the 1+ age listing, my little enjoyed this one at 10 months.
Gender Diversity
I'm pretty sure Little Quack's sister Widdle, who accompanies Little Quack, is supposed to be a female duckling. Maybe it's the flower behind an ear.
Solid Moral
If you're in trouble, find a trusted adult! Always a good lesson to impart.
(Almost) Easy focus ARt
About every other page has clearcut art design so your little can see exactly what you're counting and point along.
My little loves the beeeeeees.